Prior to 2008, Imperial Steel sourced a great deal of its raw materials from Namasco, a company that we had established a good working relationship with, who provided us with good raw materials with which to construct our pipe, tubing, and other steel products.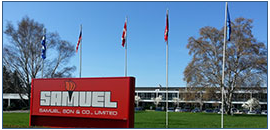 Namasco was acquired by Samuel, Son & Co., a Canadian company that began operation in 1855 in Toronto, and has been continuously operated by the Samuel family ever since. Because of their long history, deep Canadian roots, and our level of satisfaction from Namasco, Imperial Steel decided to become a customer of Samuel. In doing so, we continued to receive our coil steel from the same facility.
We couldn't be happier with our decision.
Imperial's relationship with Samuel has helped us to grow into our status as one of Western Canada's premiere suppliers of steel tubing. Like Samuel, Imperial has a decades-long tradition of excellence in manufacturing and customer service, and like us, Samuel is constantly striving to offer more versatile products to their customers.
Samuel has supported Imperial in many ways, making their extensive resources available to us. They are a truly full-service company, focused not on short-term profit through increased sales, but on long-term relationship building, in helping their customers use their products in the most effective and efficient manner, serving their own clients in the best way possible.
When two Canadian companies align themselves like Imperial and Samuel have, the customer wins in the end.
To find out more about Imperial Steel and the steel tubing and other products that we provide to the agricultural and automotive industries, sign up for our email list today.