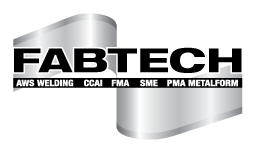 FABTECH 2015 is just 3 days away! The event, held in Chicago in 2015, is all about metal.
Co-organized by the Fabricators & Manufacturers Association Intl. (FMA), SME, American Welding Society (AWS), Precision Metalforming Association (PMA), and Chemical Coaters Association Intl. (CCAI), the show is a one-stop shop for metal fabricators to browse metalworking tools and technology; network with other manufacturing professionals; and learn about technical and leadership concepts via educational conferences, panel discussions, and forums.
More than 1,500 exhibitors and 40,000 attendees will occupy 650,000 square feet of floor space from November 9th thru November 12th at McCormick Place in Chicago. This event is North America's largest collaboration of technology, equipment and knowledge in the metal forming, fabricating, welding and finishing industries and has come to be known as the place where some of the best minds in manufacturing come to share their perspectives.
FABTECH will next be held in Canada at the Toronto Congress Centre from March 22nd thru 24th, 2016. Visit FABTECH Canada's website to learn more.
Imperial Steel is proud to be part of an industry that makes products to improve daily life – providing safety, convenience, comfort, energy and more!
To learn more about FABTECH, visit their website: http://www.fabtechexpo.com/