Our Dynamic Heritage - 85 Years of Excellence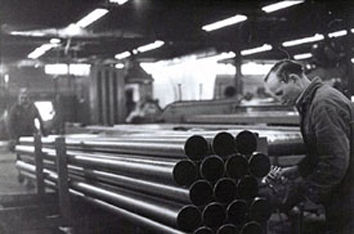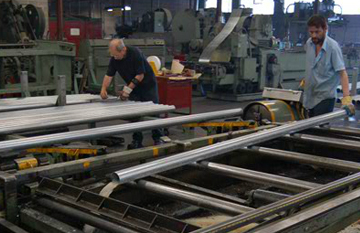 The story of Imperial Steel Products Ltd.'s success begins on May 1, 1932 in Morris, Manitoba. With Western Canada in the grips of the Great Depression, Henry Bobrowski opened a small welding shop to serve the needs of the local rural community. Henry began producing grain augers for the growing agricultural industry, and earned a reputation for quality and craftsmanship that allowed his little business to flourish.
Henry's journey began upon arriving in Canada in 1927, as a 21-year-old immigrant. The next few years would see him pursuing job opportunities in Winnipeg, Peace River, Alberta, and finally back to Morris, Manitoba. It was in Morris, in 1930, that Henry met the woman who would become his wife. It was also at that time that he decided to lease a blacksmith shop in the town, at a cost of $5 per month for living and work quarters.
Henry soon began work as a Massey-Harris dealer, selling grain binding equipment to local farmers. The farmers came to know Henry and his ability to uncover solutions to farming dilemmas, and several asked him to create a better grain auger - one that was portable, with a longer reach. Henry took up the challenge, and introduced six and seven-inch portable augers to the market by the 1940's.
Increasing sales over the next decade created the need for more space. In 1957, the company moved into a 20,000 square foot building in Winnipeg. The mass-production allowed by the increased space helped the company increase its sales to the western provinces and the United States.
As more companies began grain auger manufacturing, many began turning to Imperial Steel Products for their ability to supply the high-quality tubing needed in their equipment. Eventually, the company was supplying their tubing to a variety of different industries, and by 1978 they decided to sell their grain auger line to another firm and concentrate on the booming tubing business.
The past three decades have been focused on growing the company's prominence in the tubing supply industry. The third generation of Bobrowskis began moving into the business in the 1970's, as Imperial Steel began to expand the range of tubing sizes it offered, and diversify the industries it supplied. Manufacturers who appreciated the quality of Imperial Steel's products also began to design their equipment around the company's tubing options.
Today, the company operates from a 95,000 square foot facility at 901 Century St. in Winnipeg, where it has been since 1957. It continues to expand into new markets and diversity its tubing in diameters ranging from 2 7/8" to 12 3/4".
With the fourth generation of Bobrowskis ready to learn the family business, customers can be assured Imperial Steel Products will remain at the top of its industry for years to come. Put your trust in Imperial Steel Products - Where Quality Is A Tradition.